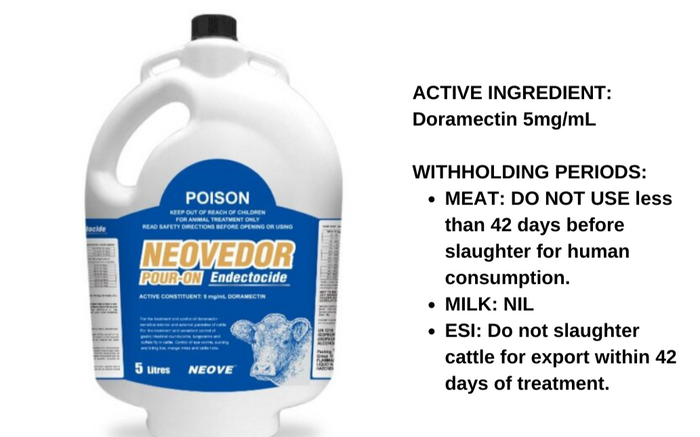 NEOVEDOR™ (DORAMECTIN) Pour-On Endectocide
Save up to

$0.00
Save

$-349.00
Original price
$349.00
-
Original price
$999.00
NEOVEDOR POUR-ON ENDECTOCIDE is for the treatment and control of doramectin sensitive internal and external parasites of cattle.
It's for the treatment and persistent control of gastrointestinal roundworms, lungworms and buffalo fly in cattle. Control of eye worms, sucking and biting lice, mange mites and cattle ticks. Highly effective in the treatment and control of the following species:
Gastrointestinal roundworms (adults and forth stage larvae)

Ostertagia ostertagi – Small brown stomach worm
Haemonchus placei – Barber's pole worm
Trichostronglylus axei – Stomach hair worm
T. colubriformis – Black scour worm
Cooperia spp. – Small intestinal worm
Cooperia oncophora
Bunostomum phlebotomum – Hook worm
Oesophagostomum radiatum – Nodule worm
Nematodirus spathiger – Thin necked intestinal worm
Thelazia spp. – Eye worm
Thichuris spp. – Whipworm
Adult and Immature Lungworm
Sucking Lice
Linognathus vituli
Haematopinus eurysternus
Solenopotes capillatus
Biting Lice
Buffalo Fly
Haematobia irritans exigua
Cattle Tick
Mange Mites

Chorioptes bovis
Sarcoptes scabiei var. bovis
When applied as directed this product can persistently protect against various gastrointestinal roundworms for 21 to 35 days; against lungworms for up to 28 days and against buffalo flies for up to 14 days.
Extensive studies have also demonstrated the following levels of persistent protection against reinfection from important worm species:

Ostertagia ostertagi – Up to 35 days
Trichostrongylus axei – Up to 35 days
Cooperia spp. – Up to 35 days
Cooperia oncophora – Up to 21 days
Dictyocaulus viviparus – Up to 28 days
Oesophagostomum radiatum – Up to 21 days
Bunostomum phlebotomum – Up to 21 days
***FREE SHIPPING FOR A LIMITED TIME ONLY***
Flat Rate Standard Delivery Charges by Weight
Orders up to 1 kg in total = $9.95 Postage nationwide
Orders 1-3 kg in total = $13.95 Postage nationwide
Orders 3-5 kg in total = $17.95 Postage nationwide
Orders 5-22 kg in total = $25 in QLD, NSW, ACT & VIC only.
If delivery address is in NT, TAS, SA and WA, please contact us for a freight quote.
Orders more than 22kg will not qualify for our flat rate shipping fee. Please contact us for a freight quote or choose "Pick-up" upon check out.
If you are unsure of shipping charges, contact us to check.